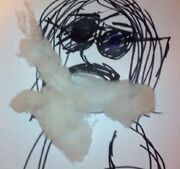 Ed Atlin is usually the main character (or sometimes main protagonist) on his YouTube channel. He pretends to be mentally disabled under the identity of "Tutorial Guy" (Not to be confused with TuTu.), and makes various kinds of "tutorials".
He expertly portrays an American persona although his true nationality is Australian.
His first appearance was in "How to draw a shoe".
On December 20, 2014, Ed Atlin uploaded a video titled "Celebrity Impression:Christmas Edition", revealing the mystery of what he looks like.